Custodial Services elevates sustainable cleaning program with new certification
Congratulations to UC Davis Custodial Services, the first and only UC to achieve the Cleaning Industry Management Standard Green Building with Honors, or CIMS-GB certification, from the world's leading trade association for the cleaning industry, ISSA.
What does this mean for our campus? 
Consistency of services
The program is designed to help participants improve cleanliness outcomes, control costs and establish a consistency of services across all custodial staff members. 
Leading the Way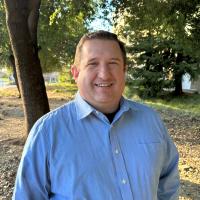 With this certification, UC Davis Custodial Services is now positioned to take a leadership role helping other organizations create similarly innovative programs.
Beyond creating a standardized training program for UC Davis custodial staff with annual refresher courses, Training Manager David Swindle (pictured left) – now a CIMS certified trainer – is working to share advancements that can benefit other cleaning organizations in the public sector by helping organize a "Train the Trainer" event to be held on the Davis campus Feb. 14-16.
According to Swindle, this program not only helps the UC Davis campus stay current with the latest technologies and knowledge, it contributes to the overall health and wellness of our community by advancing the science of cleaning.
"Certified teams have the necessary procedures in place to meet customer needs, while also addressing the heightened demands of cleaning for health and safety," said Finis Jones, director, Facilities Management Custodial Services.
Improved interior environment and enhanced sustainability practices
Certification helps define the actions custodial staff take to reduce the level of chemical use, increase indoor air quality, improve the reutilization of materials, minimize waste and more.
"Our campus's participation in this rigorous program further supports our leadership in sustainability," said David Swindle, training manager, Facilities Management Custodial Services. "It demonstrates our commitment to healthier buildings that support occupant well-being." 
Progress toward additional LEED-EBOM building ratings
Per UC green building goals, every new building on each campus must meet a minimum LEED BD+C (Building Design and Construction) Sliver rating. Each campus must also seek to certify as many buildings as possible through the LEED EBOM rating system designed for "Existing Building Operations and Maintenance."
"This is a win-win for our organization," said Kirsten DePersis, executive director, Facilities Management Building Operations. "Defining our cleaning strategy and certifying it through a third party, not only sets our team up for improved customer service, our campus now meets more requirements for gaining additional LEED-EBOM certifications."
Primary Category
Tags