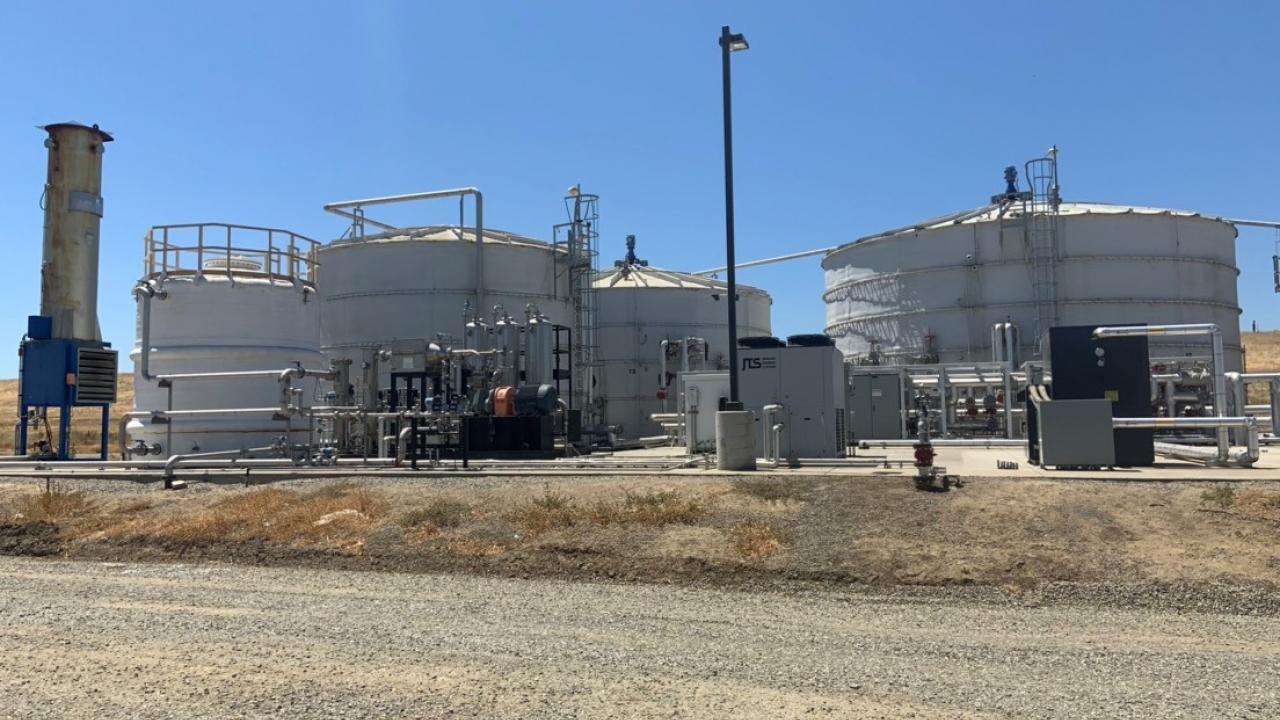 Contributed by Jennifer Jones, Utilities
The READ (Renewable Anaerobic Digester) Facility began accepting feedstock (organic waste) once again in January 2019. There were many roadblocks along the way, including securing sufficient feedstock, redesigning facility operations, and performing significant repairs. However, Utilities is pleased to have the campus bio-digester finally operational again.  
Since the facility operates on organic waste, securing regular and high-quality sources of feedstock was a high priority. Feedstock quality is determined by volume with as minimal inorganic contamination as possible. Fortunately, Utilities was able to negotiate with Raley's and their waste hauler, Atlas Disposal, to secure Raley's food waste as one of several sources for feedstock. While READ is permitted to accept a maximum of 50 tons of material per day, the goal is to accept 
an average of 40 tons to avoid overtaxing the system. We are fortunate that Raley's provides as much as 85% of the facility's overall capacity. The remaining 15% comes from campus dining commons' food waste and other off-campus sources.  
It is important to note that State legislation (SB 1383) passed in September 2016 which requires a 50% reduction in the level of statewide disposal of organic waste from the 2014 level by 2020 and a 75% reduction by 2025. At this time, there are very few facilities in operation prepared to accept and process the volume of organic material expected to be diverted from landfills to meet these deadlines, which makes our READ Facility highly attractive to waste haulers. 
UC Davis purchased the facility from CleanWorld (CW) in May 2017. It is located at the old campus landfill off Pedrick Road and was originally opened in April 2014 in collaboration with CW to use biogas from food waste processing and landfill biogas to produce electricity for the campus grid. After the purchase, it was discovered there was a design flaw in the tank lining and a host of deferred maintenance issues that meant the facility had to be taken offline in August 2017 until a thorough evaluation could be completed. Taking the facility offline gave campus the opportunity to reevaluate the business model. Producing electricity is less efficient and more expensive by far than simply producing biogas. Therefore, the facility was redesigned to produce biogas that is filtered to remove harmful contaminants and then piped to the Primate Facility for use at their Central Plant.  
It took a massive effort to get the READ Facility operational, and the following is just a brief overview of the work. Several tanks were cleaned out and the mixers were repaired. Fifty percent of the panels on the feed tank was replaced due to corrosion, and the epoxy coating was applied to several tanks to prevent future corrosion and allow operational redundancy. Site enhancements included regrading and improving drainage to prevent winter flooding, creating a circular drive for easier access, and expanding the concrete tipping pad where the feedstock is dumped and processed. In addition, Utilities has plans for future improvements to increase efficiency and reduce maintenance downtime. 
The READ Facility's importance isn't just in the production of biogas. It contributes toward the goals of UCOP moving towards zero waste and carbon neutrality, it offers invaluable research opportunities and provides a critically needed facility for food waste diversion for the campus to help control the escalating costs associated with organic waste disposal. Every unit within Utilities contributed to getting it up and running, and it is a testament to what teamwork can accomplish.   
Category
Tags