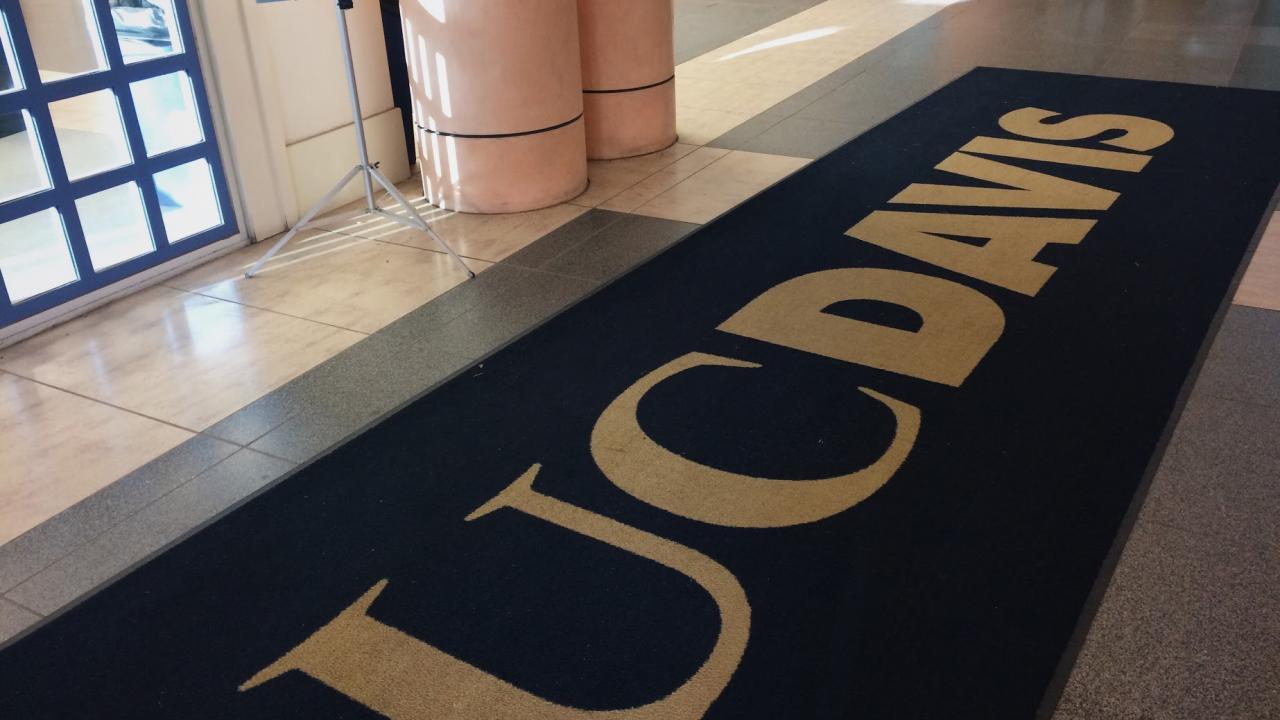 Notice anything different about building entrances lately? 
Custodial Services has currently been working for over a year and a half on the Mat Project! The Mat Project introduces new UC Davis imprinted floor mats to various buildings across campus. These buildings include Peter J. Shields Library, Mrak Hall, King Hall, and more. According to Finis Jones, the Director of Custodial Services, the department was tasked with providing additional branding across the UC Davis campus. "We want to have a good first impression by having our logo throughout campus," said Jones. These mats help bring the UC Davis community together and improve the overall aesthetics of our campus.
Jones worked with Jasmine Aranda to carry out this project. In addition, support from Amy Burns with the Energy Conservation Office was provided in order to ensure the new mats met with L.E.E.D. (Leadership in Energy and Environmental Design) standards. UC Davis communications staff, Katie Hetrick and Andrew Larsen, also provided additional logo design and branding assistance.
Although looks are important, Jones realized there are many other benefits of implementing these mats across campus. Over the rainy winter months, people reduce the lives of the floors by tracking in dirt and mud into buildings. The mats would reduce the amount of damaging grime and protect the buildings. In addition, they will make the campus safer by preventing slips and falls. This project is still relatively new, therefore, as of now, any solid benefits are unknown; however, Jones hopes to see cost savings from the mats as Custodial Services will not need to resurface the floors as often with the mat's protection. Additionally, the mats reduce the need to frequently deep clean the floors and reduce the amount of labor the custodians undertake. There are currently 1,020 mats in circulation across campus, which are replaced by a clean mat on a biweekly basis. The old mat is then laundered and rotated back into use during the next cycle. Overall, these mats are more than just a place to wipe our feet; they are a cost-effective investment. 
Category
Tags