Celebrating LEED Gold Certification of Shields Library!
This year, we are proud to announce that Shields Library is officially certified as a LEED Green Building! As of May 2021, Shields earned the LEED Gold Certification in the Existing Buildings: Operations & Management category with 73 out of 110 total points. We chose Shields because it's a "core" building that students and the UC Davis community utilize every day. Because it's a high traffic area, Shields is also a great place to educate building users on green operations. 
A green building operates in a way that reduces its environmental impact. Leadership in Energy and Environmental Design (LEED) is the most widely used green building rating system in the world. Available for different building types, LEED provides a framework for healthy, energy-efficient, and sustainable buildings. When pursuing green building certifications, we look at building features and operational impacts such as:
Energy conservation

Indoor & outdoor water efficiency 

Waste reduction

Indoor air quality

Sustainable purchasing
Finding Opportunities
Shields was a perfect candidate for certification because of its plentiful opportunities to reduce energy waste. Twenty-seven lamps in the Shields Main Reading Room were replaced with LED's to save almost 17,000W. Daylight sensors were installed in several areas throughout the library near windows. These sensors dim indoor lights when the daylight from the outdoors provides space with adequate light, saving electricity. This also reduces glare to increase occupant comfort. We also scheduled the HVAC systems according to the open hours of the Library and academic holidays and intersession periods, and reduced ventilation rates to avoid overcooling library spaces and reduce ventilation when the building is unoccupied. This and other energy savings projects in Shields saved over $23,000 and reduced total energy consumption by 8% in the 2018-19 fiscal year. 
To improve outdoor water efficiency, the landscaping surrounding the perimeter of Shields Library was designed and planted by the UC Davis Arboretum and Public Garden's Learning by Leading Sustainable Horticulture program and staff. They also removed little-used lawns to create some of these low-water landscapes. Plants in this garden need less water, are well-adapted to hot and dry Davis climate, create habitat for native wildlife & insects and provide food for pollinators, need no fertilizing (thereby improving stormwater quality), and need no mowing, thus reducing carbon emissions.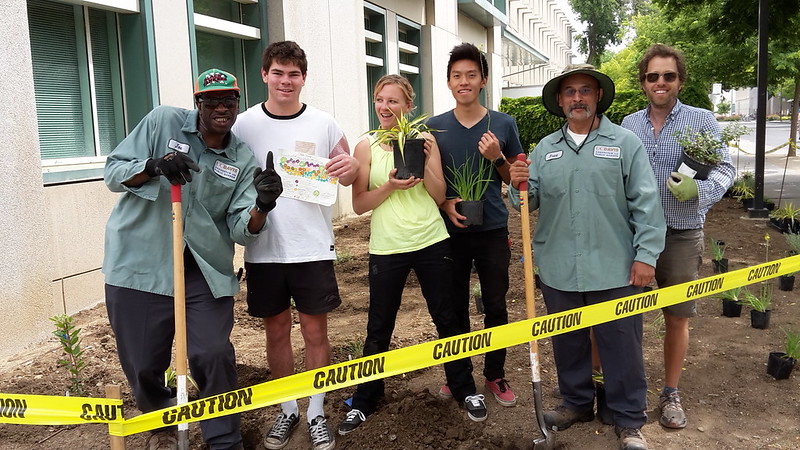 Our Team
UCD students are working on other LEED projects for our campus' existing buildings. A team of five  civil engineers, environmental policy, and environmental science and management majors make up the Green Buildings Team. They collect and analyze data, evaluate LEED requirements and perform building walkthroughs during the LEED certification. It can be up to a year long project, and is a great opportunity for students to exercise their project management, communication, and data analysis skills.
"My highlight since joining the Green Buildings Team has been learning new ways about how our campus has become sustainable and seeing the impact it brings to our community and environment." - Alexandra Rivas
ECO Green Buildings intern, Alexandra Rivas, worked on Indoor Environmental Quality credits —using databases to calculate green cleaning purchases, and creating floor plan drawings.
Primary Category