Project SWARM: New Demand Response Program Summer 2021
Project SWARM: New Demand Response Program
This summer, the UC Davis Facilities and Engineering Department is implementing a new energy-saving Demand Response Program for buildings a part of Project SWARM. This program aims to reduce the energy usage of 65 selected campus buildings during peak hours by increasing the air conditioning temperature setpoint in the buildings by 3°F for no more than 2 hours. This project will not only save energy costs when electricity is most expensive, but also will reduce excess carbon emissions caused by stress on the electricity grid, helping to minimize our campus carbon footprint and contribute to UC Davis' climate neutrality goals.
How It Works
During the summer months when electricity consumption is at its highest, the demand response program will increase the air conditioning setpoint by 3°F for no more than 2 hours. Building contacts will be notified 24 hours in advance and will have full control to manually adjust the setpoint if desired. This will occur every time the cost of electricity goes above $200/MWh (megawatt-hour) which usually happens around 5-7pm for 20 days of the year. 
Demand Response programs are being used increasingly by businesses and organizations in order to lower energy costs, reduce stress on the electricity grid and reduce carbon emissions. Using sensors within select buildings, this Demand Response program will effectively identify when energy costs are exceeding $200/MWh (suggesting high demand on the grid and higher output of carbon emissions) and set off an immediate demand response event. By communicating with Project SWARM Buildings via WiFi, the Demand Response program will automatically increase air conditioning setpoints in certain buildings and mitigate the extreme amounts of energy consumption which typically occur on summer evenings. Thus, by participating in this program building occupants can help play a role in furthering UC Davis's carbon neutrality goals.
Energy and Cost Savings
This demand response was created as a result of data collected by our resident engineers and graduate research team, who identified the peak hours in which energy costs are in excess of 200/MWh: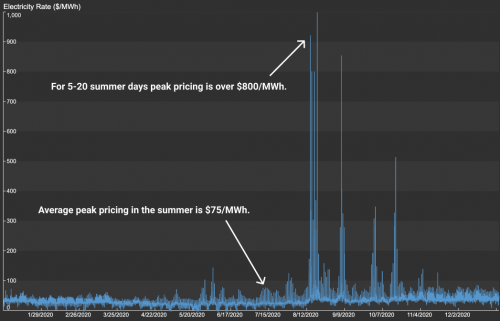 Based on these figures, our engineering team has calculated the amount of energy that can be saved if all selected buildings participate in this program for just a single day. 
Affected Buildings
Not all UC Davis buildings will be included in this demand response program. No animal rooms, server units, or buildings with set temperature requirements will be a part of this program. Some excluded spaces include:
Server rooms: E159, E014

Animal rooms: H206, H333, H205, H207

Childcare room: F241

Seed vault: N001

All S Ribbon Buildings


 
We're happy to answer your questions. 
For the 65 selected campus buildings currently included in the Demand response program. We are happy to answer any questions you have and discuss an option to opt out. To opt out of this program, please reach out to our team via email (SWARM@ucdavis.edu).