LEED Certification Background
Background on LEED Certification
LEED (Leadership in Energy and Environmental Design) is the most established green building rating system and was first implemented by the U.S. Green Building Council (USGBC) in 1998. Through LEED, the USGBC describes its mission: 
"Our mission is to transform the way buildings and communities are designed, built and operated, enabling an environmentally and socially responsible, healthy, and prosperous environment that improves the quality of life." 
A LEED Certification presents many benefits for both building owners, building occupants, and the community:
healthier and happier building occupants,

reduced carbon emissions,

waste reduction, and

higher return on investment for building owners.
The latest version of the LEED rating system (LEED v4.1, established in 2019) recognizes projects for innovations in energy efficiency, water conservation, site selection, material selection, daylighting, and waste reduction. Buildings are also awarded points based on green-building achievements in such categories, and are rated as Certified, Silver, Gold, or Platinum (the highest honor) based on the number of points earned.
Below are some statistics detailing the economic benefits and positive environmental impacts associated with LEED projects: 
Economic Benefits:
| | |
| --- | --- |
| $1.2 billion energy savings |   |
| $149.5 million water savings |   |
| $54.2 million waste savings |   |
| 20% decrease in maintenance costs |   |
| 10% increase in building value |   |
Environmental Impacts:
| | |
| --- | --- |
| 34% lower CO2 emissions |   |
| 25% less energy consumed |   |
| 11% less water consumed |   |
| 80 million tons of waste diverted from landfills |   |
Building Categories
LEED Certification is not only for new buildings. LEED also offers certifications across several categories:
Building design & construction

Interior design & construction

Operations & maintenance

Residential/homes

Cities and communities/neighborhood developments
Several departments at UC Davis pursue LEED certifications for new construction and renovations, student housing and dining facilities, and existing campus buildings. The Facilities Management Green Buildings team focuses on certifying existing buildings to make the campus as a whole more energy-efficient and sustainable.
Green Buildings @ UC Davis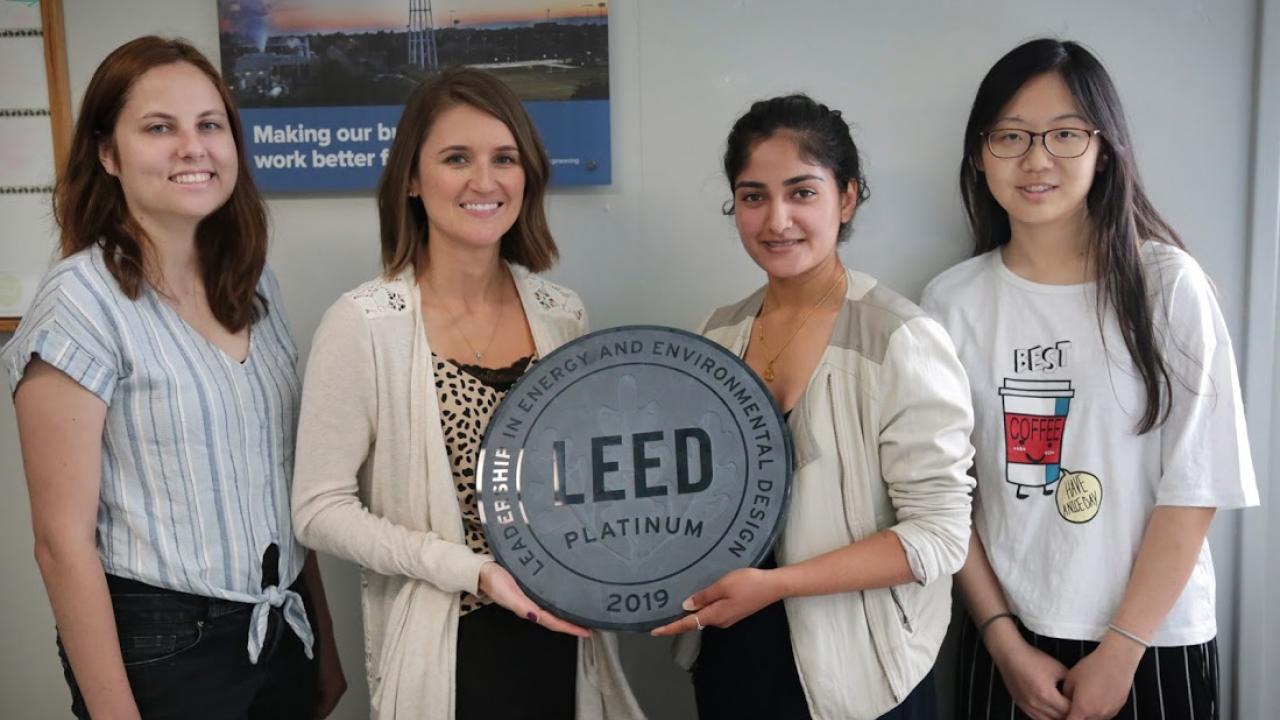 UC Davis is proud to present over 30 LEED-certified buildings which are helping contribute to our carbon neutrality goals by 2025. Check out our sustainability page to see the complete list and energy savings of LEED Certified Buildings at UC Davis and our Sacramento campus. Also check out our buildings page to see currently ongoing Green Buildings projects and learn more about how UC Davis Green Buildings meet UC-wide sustainability goals.