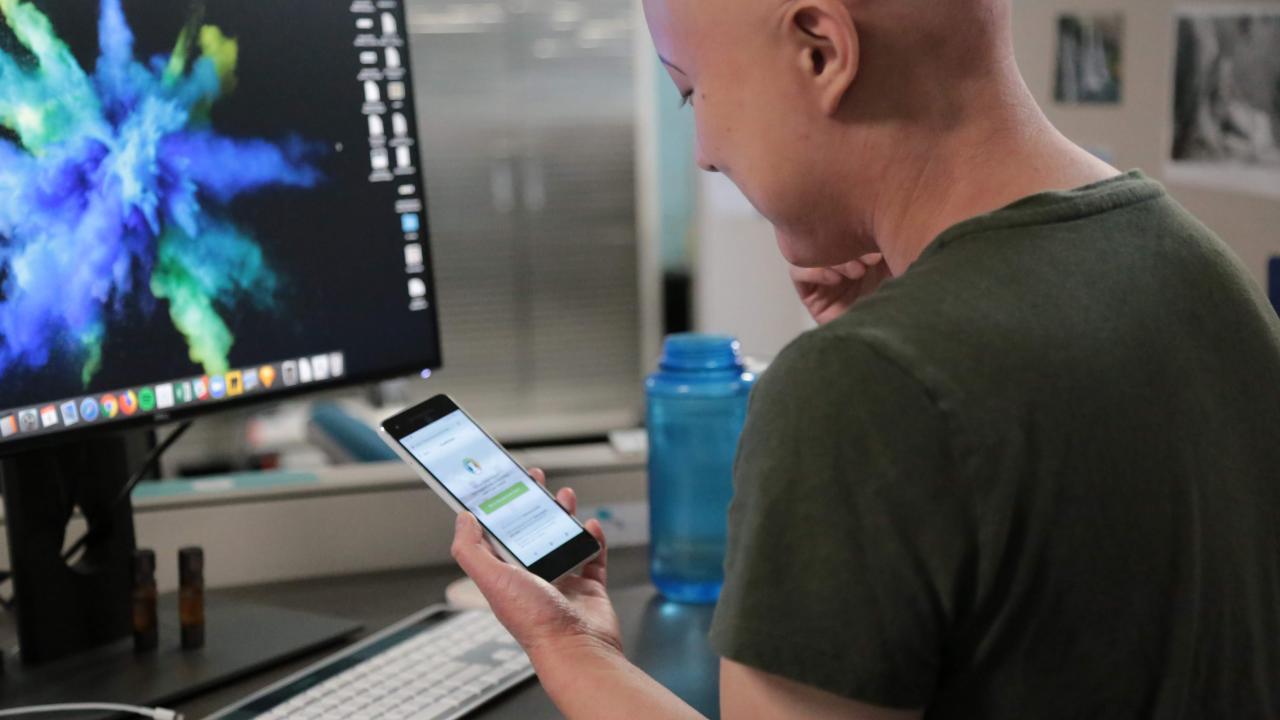 by Merina Mesa and Katie Hetrick, FOA Communications
Facilities Management at UC Davis has become a model program across the country by supporting and developing many of the environmental and innovative practices essential to our campus's "greenest-in-the-U.S." status in the 2018 UI GreenMetric World University Rankings.
This year, APPA: Leadership in Educational Facilities, the broadest coalition of educational facilities professionals in North America, is recognizing Facilities Management for their excellence in sustainability within higher education, with not one, but two awards – the Effective Innovation Award for their TherMOOstat tool and the Sustainability Innovation Award for their Active Commissioning Enterprise (ACE) program. Only five educational institutions receive awards in each category a year.
"These awards are a testament to our organization's commitment to sustainability and meeting the UC's 2025 carbon neutrality goals," says Allen Tollefson, associate vice chancellor of Facilities Management. "We are proud to be recognized for our ongoing efforts to achieve deep-energy savings and honored to receive two awards from APPA."
TherMOOstat: Effective Innovation Award winner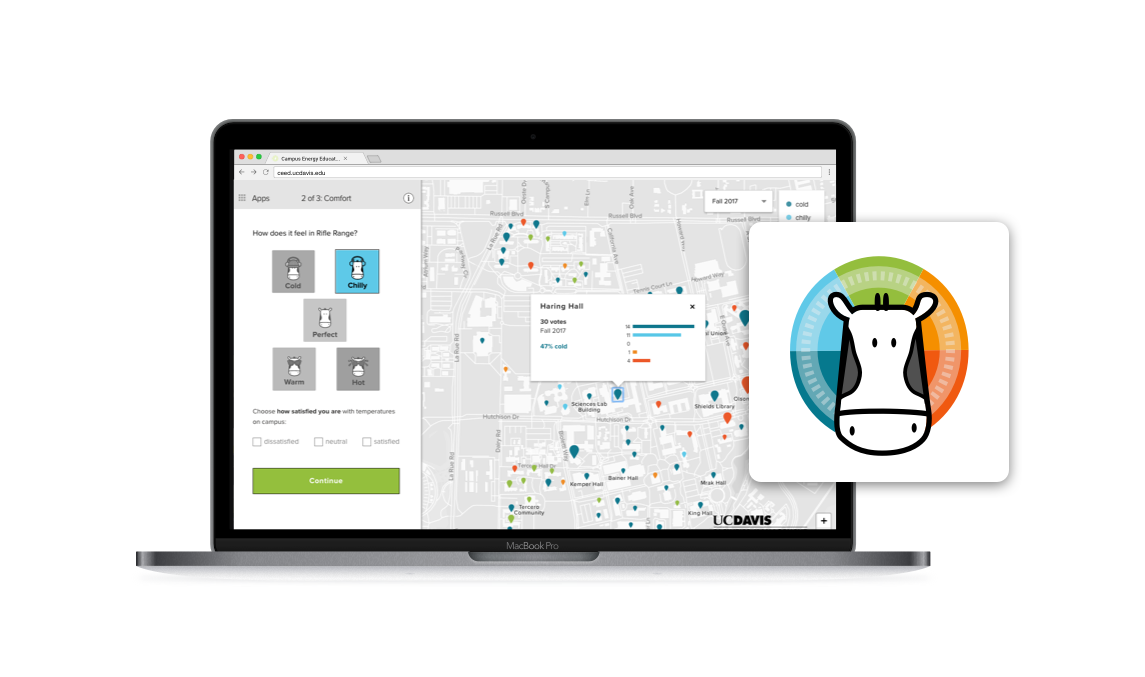 In efforts to reduce energy usage, Facilities Management's Energy and Engineering office created an online tool and app named TherMOOstat. The name is a tip of the cap to UC Davis' reputation as an Aggie school (Moo!) and reflects the tool's connection to monitoring room temperatures like a static thermostat but, in this case, the thermostats are the real-time comfort levels of each building occupant.
"We've all been in rooms that are freezing or super-hot and thought, 'Someone should fix this,'" says Kiernan Salmon, product developer for Facilities Management. "We know that the people in the buildings are smarter than thermostats, so we created TherMOOstat to crowdsource indoor comfort levels via a web app and give students, faculty and staff the opportunity to report which building or rooms are too hot, too cold or perfect."
As users provide feedback, the Facilities Management Energy and Engineering office gain day-to-day data about specific places that they would not have otherwise. With this data, the team can investigate issues in heating, ventilation, air conditioning, problems with airflow and poorly located thermostats.
Case in point, as a result of multiple people reporting that room 6 in Olson Hall was feeling warmer than usual, the team was able to reprogram the room which successfully led to an increase in airflow and ultimately resulted in energy savings. Similar issues and responses take place in multiple areas throughout campus as a result of this community engagement tool.
If you would like to learn more or start using the TherMOOstat tool, head over to https://facilities.ucdavis.edu/energy-engineering/thermoostat
ACE wins Sustainability Innovation Award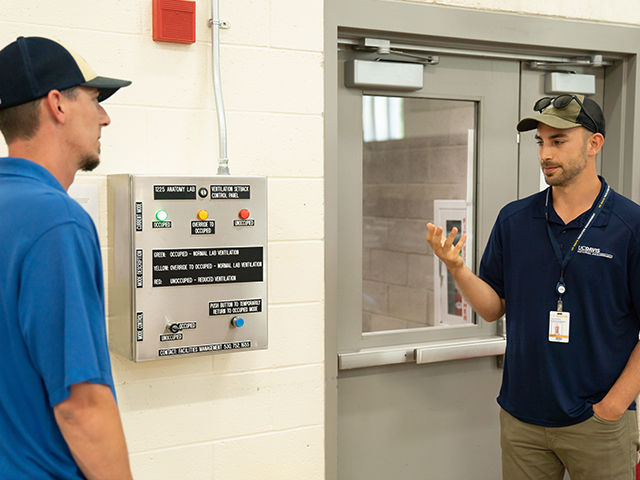 Facilities Management's Energy and Engineering office also garnered the Sustainability Innovation Award for their Active Commissioning Enterprise (ACE). The goal of this program is to optimize heating, ventilation and air-conditioning control systems. When ACE program team members get involved, they can typically reduce a building's overall energy consumption by 15 to 20%.
"Large buildings with built-in airflow controls are our team's focus," says Nicolas Fauchier-Magnan, Facilities Management supervisor and ACE program lead. "You'd be surprised at the energy that can be saved with changes that do not affect building use or occupant comfort levels."
A prime example of the ACE program at work occurred in a lab located in Veterinary Medicine 3A where a detailed electrical analysis revealed that energy use was not decreasing as expected when moving from daytime on weekdays (high-energy-use hours) to weekends and after-hours (low-energy-use hours).
To lower "after-hour" energy use, the program team first collaborated with the campus's Environmental Health and Safety department for approval to reduce airflow rates when the lab is unoccupied. During use, the lab needs 11 air changes per hour, but when the lab is not in use, air changes can top out at 4 – a change that results in significant energy savings without affecting building use or occupant safety. 
The team needed to make the switch easy for the lab operators while building in mechanisms for safety. Now, the lab is home to an easy-to-use control panel that stays in the "unoccupied ventilation" position until one of three things happens: the lab operator keys the switch to "occupied ventilation," an override button is pressed by someone without a key or the door to the walk-in cooler is tripped because, before using the room as a lab, the specimens located here are first retrieved.
As happenstance would have it, one more thing happened after the control panel installation.
"The lab became easier to use for teaching," says Fauchier-Magnan. "Professors who regularly use the space for instruction used to have a difficult time speaking over the high airflow volume. Now they can manually reduce the airflow when teaching, then turn it up when conducting lab work.
"When we can save energy while improving the educational environment, that's what makes our jobs fun, and apparently, award-worthy."
 For more information on the ACE program, please visit https://facilities.ucdavis.edu/energy-engineering/projects/ace
Category
Tags