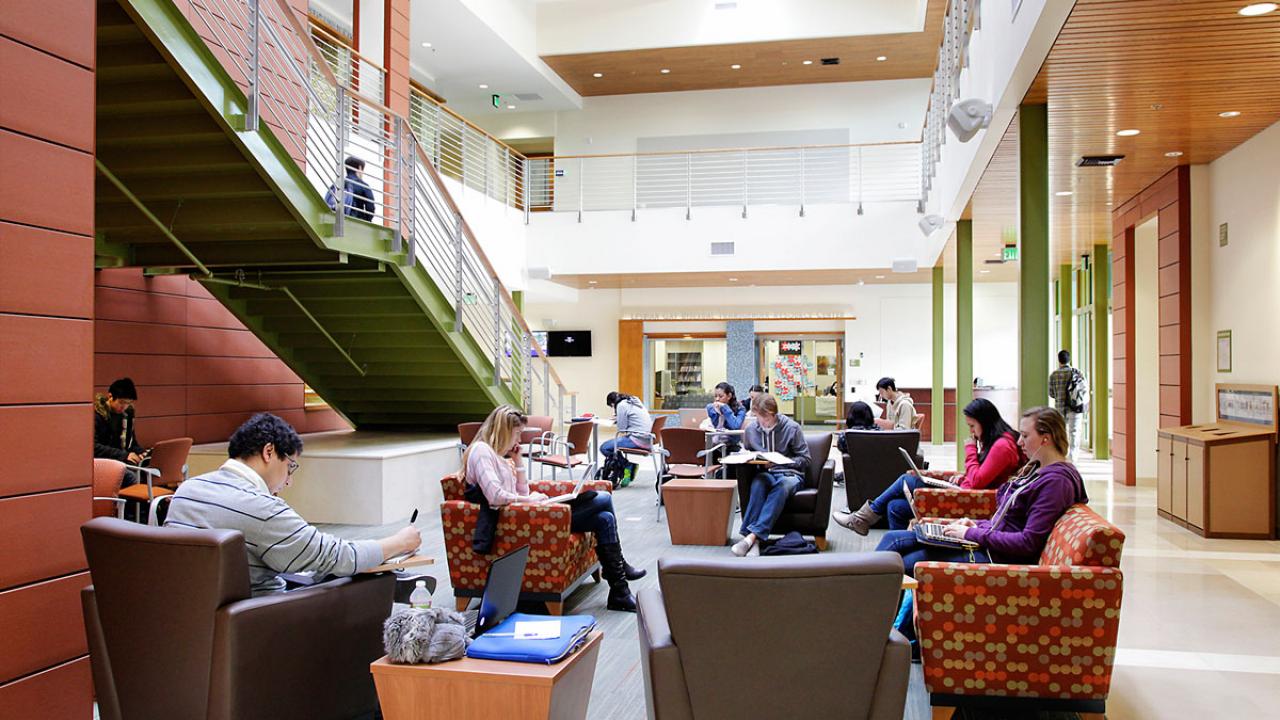 Student Community Center (SCC)
One of the most underrated buildings on campus to study, eat, hang out, and even get free scantrons, is the Student Community Center (SCC). This relatively new building opened in January of 2012 and was the product of the student body voting to increase their tuition by $13.00/quarter in order to fund a resource center for students. The SCC is home to various centers and is also used for a variety of different purposes. 
What's in the SCC?
1st Floor
Cross-Cultural Center
General Area
Student Recruitment and Retention Center
South CoHo Cafe
LGBTQIA Resource Center
2nd Floor
Computer Rooms
AB540 and Undocumented Student Center 
General Area 
Undergraduate Research Center 
Although this building has a wide variety of uses, it still has one of the more simple mechanical rooms (pictured here) and HVAC systems. This is mainly because it's primary use is office space and its secondary use is community/shared space. Lab buildings where safety precautions like hoods, eye wash stations, and complex ventilation systems are necessary will not only have more complicated mechanical systems but also use more energy.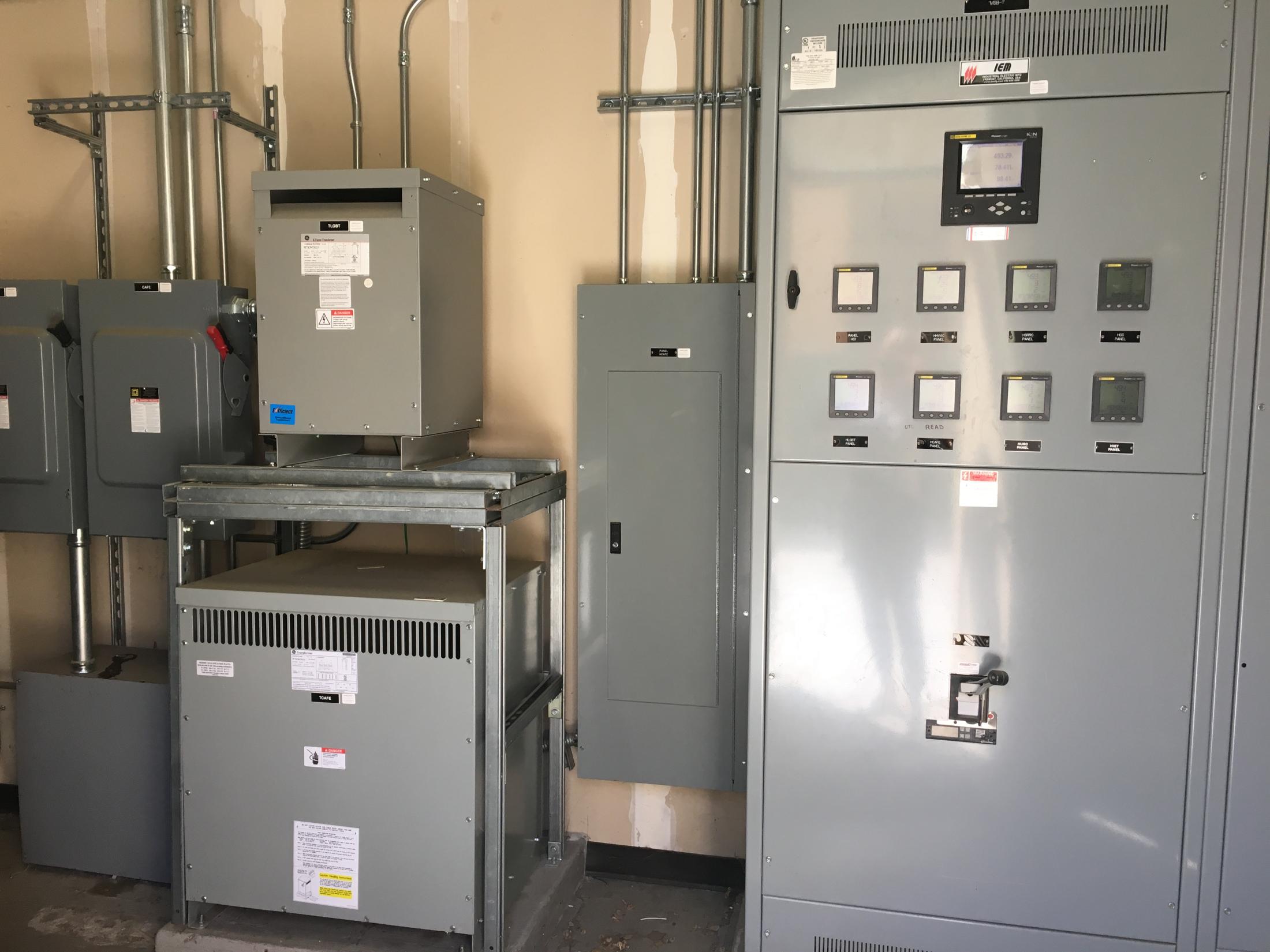 Energy Use
How much does it cost to keep the SCC running? The SCC is a LEED (Leadership in Energy and Environmental Design) certified building. This means that it was built to be sustainable, efficient and cost-effective. The Energy Use Intensity of a LEED-certified non-lab building like the SCC is going to be much lower than a lab building like Life Sciences. The SCC is 50% office space, and 35% general use space and has an EUI of 107kBut/sqft.  Meanwhile, a building that is primarily 80% laboratory like Life Sciences has a MASSIVE Energy Use Intensity of 407 kBut/sqft which is 4 times the amount of the SCC. 
How We Measure Energy Use
The SCC has submetering for its electricity use, which means the building is segmented into different sections with individual electricity meters. This allows us to track individual spaces' electricity usage and see what parts of the building use more or less energy.  For example, we pulled electricity usage data from the general area on the first floor during week 10 and Spring break.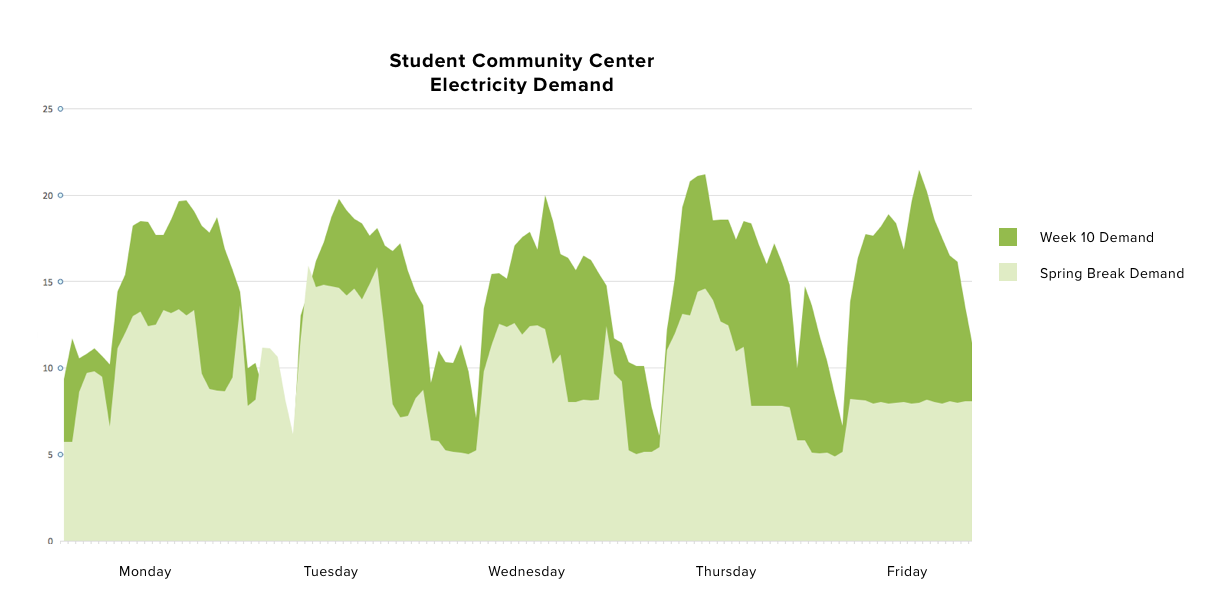 As you can see, during week 10 when the SCC was open until 2 AM and students were studying, the electricity usage spiked in this area of the building.  A week later during spring break, there was a significant drop in electricity usage because there are fewer people on campus. Through the use of submetering, we can understand electricity usage trends and determine how we can improve the building's efficiency.
To prevent energy waste, buildings like the SCC are designed to work smarter, not harder. However, we can always use your help! Visit our Trim the Waste program to learn how to identify and report energy waste in your building!
Category
Tags