Zero Waste Pilot Project
Zero Waste Collaboration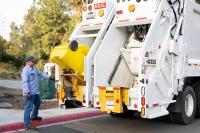 The roll out of a centralized bin system within the buildings listed here, and eventually across campus, is the result of a collaboration between Facilities Management and Sustainability whose CalRecycle grant application helped fund a new compost collection vehicle to manage the future growth of our organic waste stream.
Not sure what goes in the waste, recycle and compost bins? Learn more and test your knowledge here.
Updated February 1, 2021
Did you know that 60% of our campus landfill could be composted?
One of the reasons this number is high is due to lack of convenient compost disposal locations.
Fortunately, this issue is resolved for eleven buildings participating in a zero waste pilot project collaboration between Facilities Management and Sustainability. 
Each of these facilities is now home to multiple sets of centrally located zero waste bins including paper recycling, bottle/can recycling, landfill and finally, compost — an option many employees and students have asked campus provide to improve diversion of commonly landfilled items like food waste, paper napkins, paper cups, cardboard pizza boxes and more.
Additional Benefits
In addition to convenient compost locations, this pilot project:
Allows individuals the opportunity to participate in supporting the campus's sustainability efforts 

Provides a location for additional waste removal, if needed

Supports the UC-wide commitment to Zero Waste
Supports the UC-wide pledge to become carbon neutral by 2025
Facilitates campus compliance with state regulations mandating an increase

 

to our organic waste composting efforts (Senate Bill 1383 and Assembly Bill 1826)
Your feedback is important
The initial rollout of this new system is a pilot project from which we hope to gain insight for deploying this system across campus. Please provide your feedback directly to Custodial Services at custodial@ucdavis.edu.

Buildings with Centralized Bins
| Building | Bin Sets | Location |
| --- | --- | --- |
| Shields Library | 9 | |
| Tupper Hall | 23 | |
| Fire and Police | 2 | |
| ARC - Pavilion | 2 | |
| Earth and Physical Sciences | 12 | |
| Robbins Hall and Annex | 10 | |
| Sciences Lab Building | 7 | |
| Kerr Hall | 6 | |
| Math Building | 4 | |
| Academic Surge | 4 | |
| Meyer Hall | 8 | |
|   |   |   |
FAQ
When can I expect to see this change?

Employees in the above-referenced buildings will begin to see the zero waste bins stationed in their buildings beginning in mid-October 2020. 

How often will Custodial Services remove the waste in the centrally located bins?

These bins will be emptied 1-3 times a day, depending on need.

How can I learn more about what belongs in each type of waste bin?

You can read on this topic and test your knowledge with this online tutorial and quiz, check out this A-Z recycling guide or email recycling@ucdavis.edu with any additional questions.

What will the bins look like?

The bins are large, steel, building-code-compliant receptacles that are color-coded and labeled for easy sorting. There is a black bin for landfill, a blue bin with a round receptacle for bottles and cans, another blue bin with a slot for paper recycling and a green bin with a lid for compost. (See photo above.)
What can I put in my compost bin?
Our campus takes its compost to a commercial composting facility. This facility current accepts food waste (e.g. leftovers, banana peels, bones and eggshells, teabags and coffee grounds), paper/cardboard foodservice products (e.g. napkins, cup, plates, pizza boxes), wood products (e.g. toothpicks, wood chopsticks and utensils), and compostable plastic products (e.g. #7 PLA plastic containers from the Coffee House). To avoid contamination, please remove all non-compostable plastic (e.g. plastic bags/film, produce stickers, pizza tables, condiment packets, regular plastic utensils) and staples before composting. Learn more and test your waste separation knowledge here or email recycling@ucdavis.edu.

How many sets of bins will be located in each building?

Please refer to the chart above for information about how many sets will be in each building and where they will be located.

Will this system eventually be rolled out across campus?

Yes, we hope to learn from this pilot project and eventually roll this system out across campus.

My building already has a set/sets of centralized bins. Will I need new ones?

Custodial Services will not be removing any bins. Whether or not they are added will be determined on a case-by-case basis.
Tags